Description
Nutri-blend, 400W, 22000 RPM 100% Full Copper Motor, Mixer-Grinder, Blender, SS Blades,2 Unbreakable Jars, 2 Years warranty, Champagne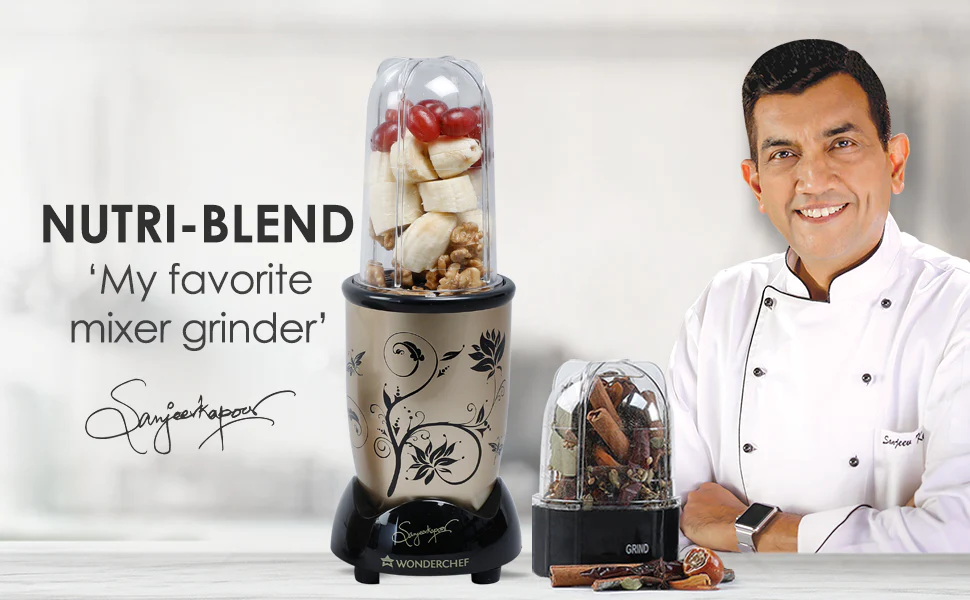 About The Product
Finest: Nutri-blend, the selling mixer-grinder thanks to its powerful motor, beautiful looks, unbreakable transparent jars, and incredible performance
Mix, Grind, Blend In Just 30 Seconds: Make chutneys, healthy smoothies, and grind dry masalas & spices in just 30 seconds.
Powerful 100% Full Copper Motor: Grind the toughest chutneys and masalas with the 400 W, incredibly high speed of 22,000 RPM full copper motor – twice that of normal mixer-grinders
Surgical-grade Stainless Steel Blades: Extract every ounce of immunity-enhancing antioxidants, pain-relieving Omega 3s, proteins, vitamins & minerals from your foods with the super sharp blades rotating at high speed
Transparent & Unbreakable Jars: Monitor the progress without opening the jars. Use the tall jar (500ml) with a 4-wing blade for mixing-blending and the short jar (300ml) with a 2-wing flat blade for grinding
Easy Operation:

Easy push & twist operation. Positive locking of the jars to avoid damages. Easy to clean, dishwasher safe.
All-in-one System: Start with 2 jars, and add a chopper, food processor, juicer, and bigger jar anytime for your different needs
2 Year On-site Warranty: Peace-of-mind with reliable Wonderchef warranty with the best after-sales service in over 20,000 pin codes across India.
Wonderful Design: Wonderchef products are inspired by Italian Design and adhere to German Quality Standards.
For most foods and masalas 30 sec is enough. Do not run the appliance beyond 60 sec at one go. Give it a break of 2-3 minutes to cool down the high-speed motor and begin again
Do not use the blending blade for grinding dry masalas. Use the flat 2-wing blade only for dry grinding
Wash carefully as the blades are sharp
Close jar-base tightly as the appliance starts as soon as the jar is fitted into the base