Description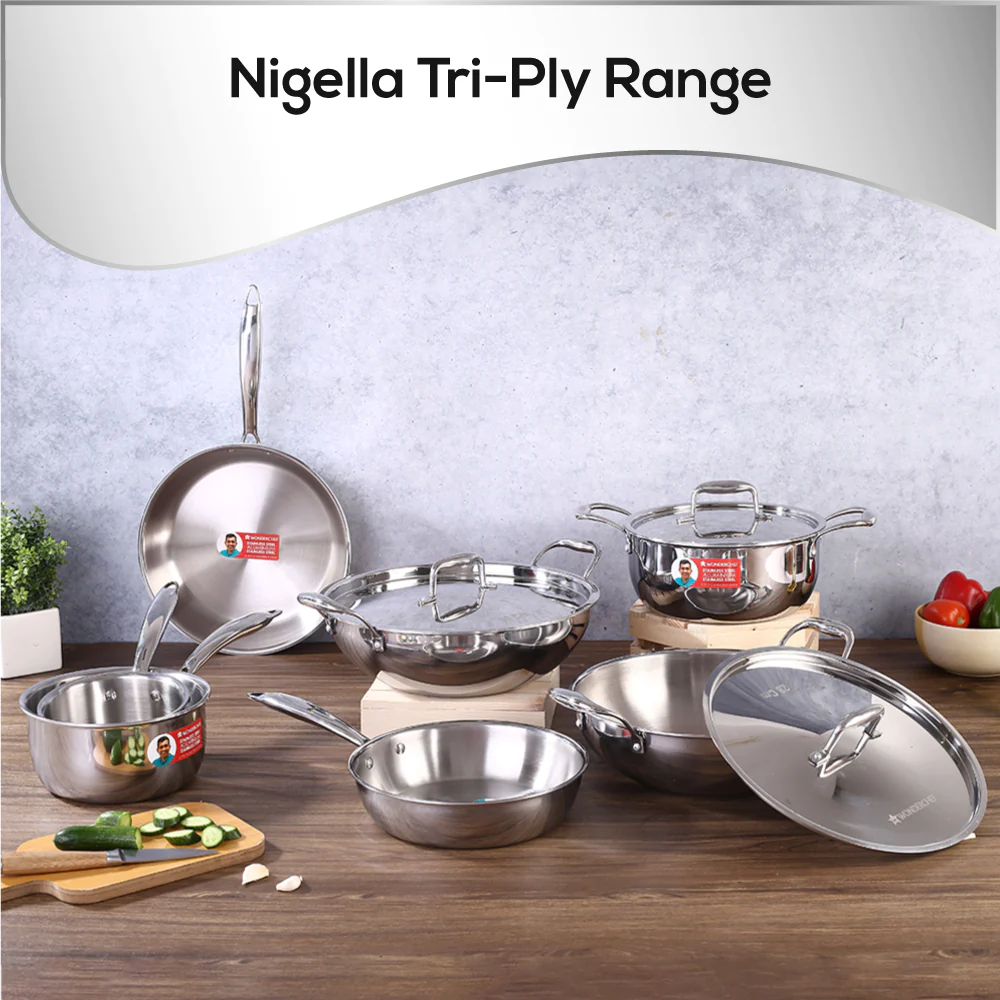 About The Product
Nigella Tri-Ply cookware is ideal for Indian cooking. Our cooking involves high levels of heat and food is normally cooked at varying temperatures. Hence tri-ply stainless steel cookware becomes an ideal choice to cook without losing nutrients. Nigella fry pans come in varied capacity of 1.8lt and 2.6lt with thickness of 2.5mm which makes it strong and sturdy. The extra shine gives the fry pans an elegant mirror finish.
Enhanced Multi-layered Construction: The Wonderchef Nigella Tri-Ply Pan's aluminium core is sandwiched between two non-toxic, high-grade steel layers, providing exceptional heat conduction and unmatched durability for daily use.
Perfect Cooking Every Time: With its 2.5mm thickness and tri-ply walls, this fry pan ensures your food is cooked to perfection without burning, while the even heat distribution guarantees consistent results every time.
Healthy & Delicious Meals: The tri-ply construction requires less oil, so you can enjoy healthier meals without compromising on flavor.
Versatile & Multifunctional: This fry pan is your go-to for a variety of dishes, from breakfast to dinner, making it an essential addition to any kitchen.
Compatible With All Cooktops: Designed to work with gas, electric, and induction cooktops, this versatile pan is perfect for any cooking setup.
Riveted Stay-cool Handles: Experience maximum comfort with stay-cool handles, ensuring safe handling and securely riveted to the pan's body.
Easy to Clean: The mirror-polished exterior is stylish and easy to clean, while the brushed-finish interior prevents food from sticking, making cleanup a breeze.
Ideal For Home Chefs & Pros: This high-quality fry pan, featuring professional-grade construction, is the perfect choice for both home chefs and culinary experts.
Long-lasting 10-year Warranty: Invest confidently in your kitchen, knowing your fry pan is backed by a 10-year Wonderchef warranty, ensuring satisfaction for years to come.