Description
Teramo Speckled Blue Mug Set of 2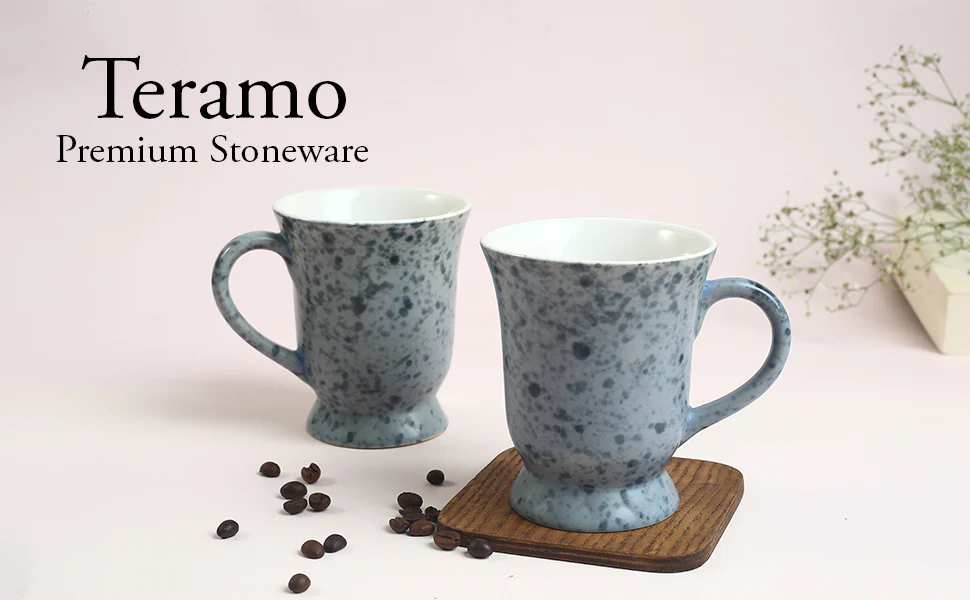 About The Product
Savour your morning tea or coffee in this well decorated mug with hand-made speckles in varied tones of deep blue shade. Pour coffee for your friends in the stoneware mugs and enjoy endless chatter with them. Best of all, it's dishwasher safe and microwavable.
Some differences or irregularities in colour , shape or glaze are to be expected as these products are hand made .These will not be considered as manufacturing defects.
Let us travel to the scenic Roman city of Teramo, that blossomed along the hills of Apennine mountains. Inspired by the beautiful color palette of the earth tones merging in the sky, we present to you our, Teramo Collection!
Wonderchef is here to style your home with this elegant collection and add a contemporary twist to your dining experience.
Wonderchef Teramo Stoneware is crafted with highest quality clay, free from chemicals or heavy metals.
It is ideal for serving all kinds of hot or cold dishes.
The products are designed by our artisans and hand-made with love and care on the potter's wheel.
They are then baked at 1,260°C temperature to lend them strength and durability.
The products are double glazed to ensures they do not get scratched easily.
A Teramo product is a reflection of your fine taste and adds value to your dinner table.
Use it every day with family and also to serve guests proudly.
Extend yourself an elevated tea/coffee experience with Teramo Mugs set in a speckled blue design. These mugs are beautifully stoneware-crafted. The glossy & speckled blue surface gives a natural shine to these large mugs.Stoneware Material

Our premium stoneware products are fired at high temperature of 1260°C that transforms the clay into stoneware ceramics, thereby making it strong, chip-resistant, and completely food safe. It comes with a beautiful glaze finish.

Speckled design

The speckled design in the soothing blue palette adds a special charm to your tea or coffee drinking. Make these twin mugs a must have!

Dimensions

This is an elegant 250ml capacity coffee mug, ready to enhance your coffee drinking experience

Wash & Care

Microwave and Dish washer Safe.
Hand wash with mild detergents.
Do not use abrasive or harsh cleaning agents.
All colours used on our products are food safe.